7 Great Benefits of Working for a Canadian University
Sunday February 9th, 2014
19,700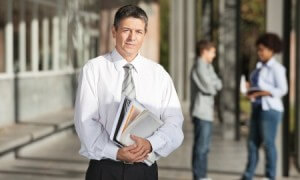 The large universities in Canada employ thousands of people in a wide array of job types. Dalhousie University, for example, one of the oldest in Canada, employs close to 7,000 people.
Jobs in Canadian universities  are typically divided into administrative, faculty, and staff positions. Administrators typically manage the running of the university, handling jobs as diverse as president, placement co-ordinator for the business program to manager of residence life. While some administrative positions are designated as "faculty work", meaning only faculty can apply for them, generally these positions fall outside that designation and are not unionized.
Faculty also are not unionized but are protected by a faculty association that acts on their behalf. Staff positions on the other hand are typically union positions in most Canadian colleges and universities.
If you do choose to go after a job at a Canadian University, it's important to know that demographers are predicting a glut of openings at universities over the next 10 years, particularly in faculty positions as baby boomers age and move into retirement.
If working in a university environment appeals to you, here are some of the benefits you can look forward to.
Giving back to society: Often what draws people to work at a university is the knowledge they are contributing to the future of our country through supporting the education of our citizens. Universities can also be a very energizing environment to work in.
Fantastic benefits: Most universities have a "Cadillac" version of benefits including, extended medical, dental, disability benefits, travel coverage, employee and family assistance programs , top pension benefits, various insurance benefits, and more. Note that all universities will have some combination of the benefits listed above and many now have program that allows you to custom build your own benefits program. Your account will be given a certain number of "benefit dollars" which you can spend based on need. If you are single, you might choose one type of benefit plan whereas a family might want to put their "benefit dollars "somewhere else.
Great holidays: Faculty of course start with 2 months holidays however most staff positions start with 2 to 3 weeks' vacation per year topping out at 6 weeks per year, in addition to all the days and weeks of school break.
Being surrounded by like-minded people: The kinds of people who are attracted to working at a university are usually curious and open-minded.
Lots of opportunities for intellectual stimulation: Universities put on top quality arts and sports events. They usually have excellent health centres, and sports facilities as well as childcare on campus for employees and students.
Free education: Also if you see yourself continuing your education, most universities will offer full or partial tuition waiver, tuition reimbursement or allow their employees to take a few  courses per year for free.
 Diversity in the workplace
Canadian colleges and universities are microcosms of the diversity and multiculturalism that Canada tries to promote as a country. Because of the advanced intellectual level and progressive mentality typically found in higher education environment, you may expect to find more diversity in the ethnic make-up, the cultural activities, intellectual background and interests of the people working for universities in Canada.
If you want to find out more about job opportunities at the various universities in Canada you will find they are all listed on the individual universities' websites or the leading Canadian higher education job board: Edujobscanada.com.
Something you will likely come across as you are looking is a notation that a job is an "internal" posting. That means that qualified candidates who are already working at the university have the first chance at these jobs. If no qualified candidates can be found internally, the university will then post the job "externally" which means they will open it up to everyone.
We hope you find a rewarding career at a university in Canada.
Erin Bailo, Career Advisor.
© EduJobsCanada : http://www.edujobscanada.com