Nine Steps for Climbing the Career Ladder
Sunday December 29th, 2013
6,861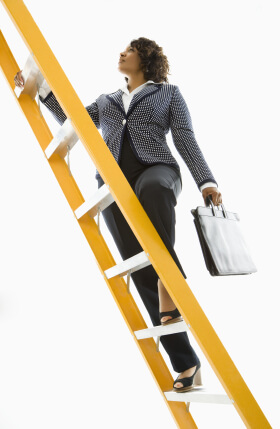 Why is it that some people seem to make rapid progress in their careers while others don't?
Are you one of the people sitting at the bottom of the ladder looking up and wishing?
Whether you work for a Canadian university, in higher education in general or any other industry, the challenges are the same. Still, in a university environment, you have to remember that there are many different schools, faculties, departments, centres and offices. Hence, you may climb the career ladder within your department or by moving to another service within the same institution. Most Canadian universities offer excellent growth opportunities spanning from professional development training, regular workshops, tuition waiver or assistance to staff.   While employment at Canadian universities offer flexible growth opportunities, you still need to seize those with a good strategy.
So take a look at the most successful amongst us and you will see that they have much in common. They know how to behave, and what to do to get where they want to go.
Here are some of the things you can do to replicate that behavior and start climbing the career ladder yourself.
Have a plan. You need to know where you want to go in order to get there. Breaking your goals down into manageable units will allow you to take one step at a time. So set goals for yourself. Make sure they are specific, measurable, attainable and realistic and have a time limit attached to them. That way you can monitor your progress and make adjustments as you go.
Get a mentor. Especially if you are in the early stages of your career, establishing a relationship with a knowledgeable mentor is one of the most significant things you can do for your career. Let the wisdom and experience of someone who has been there guide your path. Most successful people attribute a large part of their success to the role of a mentor in their lives.
You may approach senior faculty members, established researchers or university executives who will be delighted to help you. As a matter of fact, many universities have a mentor program for the staff or students.
Stay up to date. Our world is changing rapidly. If you want to be part of it you need to see learning as life long and stay informed. Working for a Canadian college or university, you are immersed in a knowledge environment, full of conferences and various forms of conversation about advances in all fields. It behooves to you to take advantage of all those. You also may want to subscribe to newsletters, magazines, or sign up on forum of reputable online journals and groups.
Under promise and over deliver. In the same way that people remember when you miss a deadline or come late to a meeting they will also remember in a positive way when you deliver even more than you promised. Did you get that order delivered ahead of the deadline and under budget? That will get noticed!
Be a team player. More and more tasks are taken on in teams. The better you work with a group the more desirable an employee you will be. This means not just having a focus on getting the job done at any cost but also paying attention to the dynamics of the people around you.
Build a strong network. People want to work with people they like. The more people you can connect with in a positive way the more your opportunities will expand. Networking is not only good for you it also generates business for your company.
Be an active listener. Forget about your ego, and pay attention to those around you. Find out what they have to say and learn from them. People get tired really fast of people who insist on constantly taking the limelight.
Demonstrate self-confidence. This starts first with your personal presentation. Always look smartly dressed for your profession. Keep yourself healthy by eating properly, and exercising regularly. Stand out through your enthusiasm, energy and ideas.
Be a "can do" person. Be the one who is always willing to go the extra mile, for your boss and for customers. At a college or university, your customers are faculty, students and the staff. Nothing builds a reputation faster than being fast, reliable and making it happen.
Now go out there and make yourself a plan. Where do YOU want to be in 3 years with your career?
Visit EduJobsCanada.com to find a job in higher education or post a job!
© EduJobsCanada : http://www.edujobscanada.com