Preparing for a Job Interview by Thinking like the Hiring Manager
Wednesday December 18th, 2013
9,625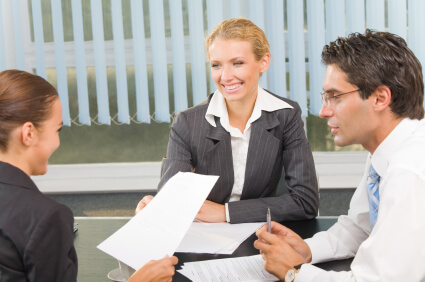 One of the most stressful processes that many of us do is to prepare and go through the process of a job interview. How can one prepare for an interview? You don't know who the person is you will be meeting with, you don't know what the environment will be like and you certainly don't know what the questions will be. Although, there are ways you can reduce the stress and have a successful job interview.
1. Be in the other person's shoes
Place yourself into the hiring manager's position. What type of questions would you ask a potential staff member? The questions will range between behavioural to technical. Behavioural questions are typically generalized as the responses provide a further insight as to what type of person the interviewee is and how they handle different situations.
The technical questions will be more intense and more specific to the main field of the job posting because this is the side that will be handling the various school technical problems, be they accounting, technology, planning or more. Questions of course can be open to very specific. Open questions can give an overview of how the prospective employee would handle a particular issue. Beware, too much chit chat can release too much personal information or be taken that you are a talkative person. A more specific question will pinpoint the professional personality and behaviors of that individual.
2. Carefully review the job description

Identify what the primary duties for the position in question are. Look for key words that provide clues as to what the school is looking for. Every position has major specific job duties that are unique to that position. The hiring manager is looking primarily for someone who can successfully handle these duties and at the same time be able to process other tasks correctly and in a timely manner.
What contributions do you think a hiring manager would expect from a new hire and how would you meet those expectations?
3. Investigate and identify
If possible, attempt to determine why the institution is offering the position. If this is possible, it will help determine the background and culture of the hiring division as well as the skills that will be needed and help you answer the hiring manager's questions efficiently and effectively. A good search of the Internet may reveal more about the university, school, department, or the hiring manager. Has the manager made a presentation lately about a project they are working on? That would be a goldmine for a job seeker.
These are just three things to consider from the hiring manager's position. There are other things to consider as well. Your interview is your gold ticket to working for a great school and you don't want to do anything to ruin that opportunity. So, here are some other points to consider:
Research the college or university. If you are asked questions about the school's culture, you are prepared; having prior knowledge about the school shows that you take interest in the school, faculty or department and you are more likely to enjoy your job.
The hiring process takes a lot of time out of the hiring manager's day. He/she is looking for someone in particular who can not only do the primary job duties but multi-task and work well as individual and with others. If you have to think about your answers, you probably won't make it to the next round.
Listen and speak clearly. If you have the opportunity to ask questions, do so but only about what was discussed unless directed otherwise. Too much too soon could do harm.
Attitude. Be positive but not so enthusiastic that you are doing cartwheels. Relax, your life is not on the line; the hiring manager is just trying to learn more about you and what you have to offer their school.
The unknown can be scary. As humans, we tend to worry about things that actually turn out for the better. Preparation for an interview is possible and the more knowledge you have will result in a successful interview, even if you don't get the position.
The best of luck to you on your next interview!
Visit EduJobsCanada.com to find a job in higher education or post a job!
© EduJobsCanada : http://www.edujobscanada.com